Johanna Danninger/ Greta Milán – The Wedding Project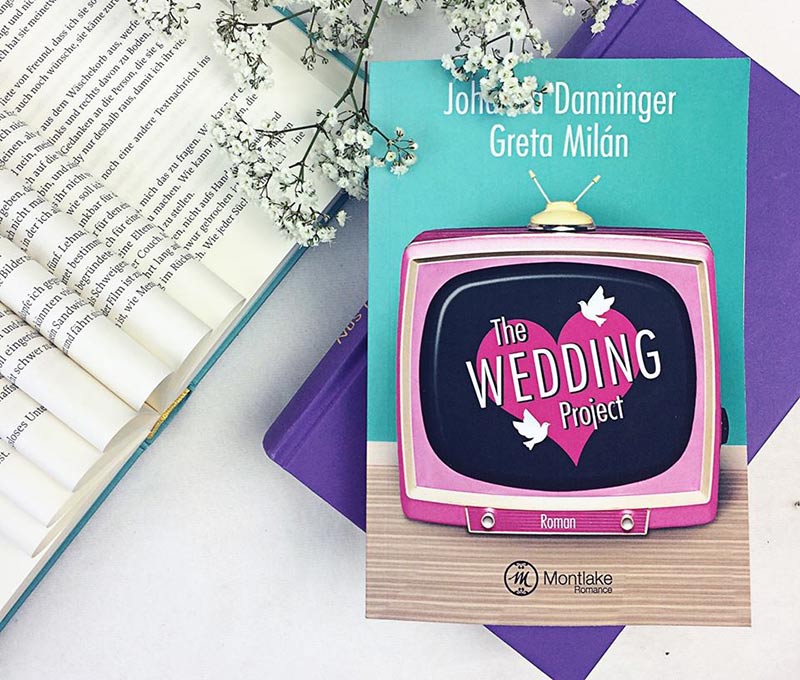 Kurzbeschreibung:
Niemals hätte Claire gedacht, eines Tages einen Wildfremden vor laufender Kamera zu heiraten. Ebenso wenig hätte John es je für möglich gehalten, für eine simple Wette so weit zu gehen. Und dennoch finden sich die beiden unversehens vor dem Traualtar wieder. Bei einer Fernsehshow, in der zwei Paare herausfinden sollen, ob eine Ehe auf den ersten Blick funktionieren kann.
Claire und John sind sich einig – sie wollen diese Show unbedingt gewinnen. Dumm nur, dass sie sich absolut nicht ausstehen können. In ihrem Ehealltag fliegen von Anfang an die Fetzen. Oder sind es vielleicht doch eher die Funken?
Süß und liebenswert!
Johanna Danninger und Greta Milan haben mit The Wedding Project ein Buch zum Verlieben geschrieben!
Die Geschichte klang witzig – nach der perfekten Nachmittagsunterhaltung.
Und das war sie auch.
Bunt, fröhlich und sehr humorvoll entsteht vor den Augen des Lesers eine zarte Liebesgeschichte. Claire und John waren mir sofort sympathisch. Es wird wechselnd aus beides Perspektiven erzählt, sodass man immer einen Blick in die Gedanken des anderen werfen kann. Das fand ich sehr erfrischend, denn manchmal wäre es wirklich schade gewesen, nicht zu wissen, was in der anderen Person vorgeht.
Die Handlung von The Wedding Project war vorhersehbar, aber das hat mich nicht gestört. Ich wollte einen schönen Liebesroman lesen und den habe ich auch bekommen! Ich fühlte mich sehr gut unterhalten und die Seiten flogen nur so dahin. In nur wenigen Stunden habe ich das Buch verschlungen. Und es waren schöne Stunden.
Sucht ihr nach einer sehr süßen und liebenswerten Liebesgeschichte, dann seid ihr mit The Wedding Project absolut gut beraten!
Wenn ihr übrigens mehr über die Autorinnen erfahren wollt, so interessiert euch vielleicht das Interview mit Johanna Danninger und Greta Milán.
Für weitere Buchtipps und Leseempfehlungen unterschiedlichster Art schaut euch auch bei meinen anderen Rezensionen auf meinem Buchblog um.

Kaufen:
amazon.de* (Werbung)
Format:
Taschenbuch
ISBN:
9782919800278
Bewertung:
Erscheinungstermin:
März 2018
Verlag:
Montlake Romance
Übersetzung:
–