Kira Mohn – Save me from the Night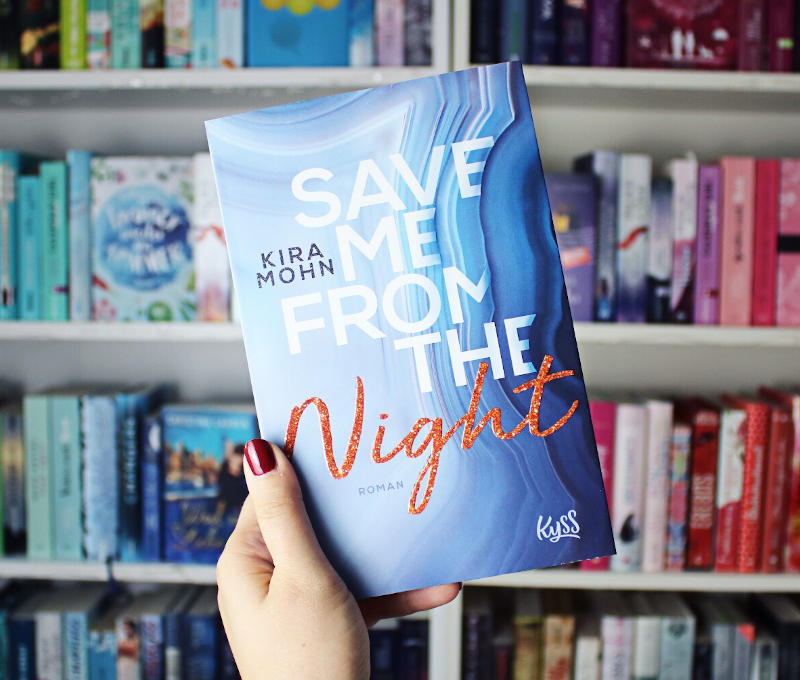 Kurzbeschreibung:
Küssen sollte einfach sein. Jeder tut es. Es ist nicht viel dabei. Seanna liebt das Meer. Nein, sie braucht es sogar. Nur wenn sie tief die salzige Luft einatmet, nur wenn sie sich ganz vom Geräusch der Wellen erfüllen lässt, kommen ihre Gedanken zur Ruhe. Dann kann sie für kurze Zeit vergessen, was vor einem Jahr passiert ist. Daher geht sie jede Nacht, sobald ihre Schicht im einzigen Pub des kleinen irischen Dorfes Castledunns vorbei ist, hinunter zum Strand – bis sie dort Niall Kennan begegnet, ihrem neuen Chef. Gegen ihren Willen fühlt sie sich von dem ruhigen Mann mit den faszinierenden Tattoos angezogen, und im Licht des Mondes beginnt etwas, das Seannas sorgsam errichtete Mauern einzureißen droht …
Ernster, als Band 1…
Mit dem ersten Band der Leuchtturm-Reihe Show me the Stars, der bei Endlich Kyss erschienen ist, hat Kira Mohn sich in mein Herz geschrieben.
Deshalb habe ich mich total auf den zweiten Band Save me from the Night gefreut.
Tatsächlich ist Save me from the Night anders als sein Vorgänger.
Ernster.
Tiefer.
Und wisst ihr was? Mir hat das sehr gut gefallen und es hat mich sehr bewegt.
Für meine komplette Meinung brauchte ich einen Moment, denn die Geschichte musste ein wenig in mir nachklingen.
In Save me from the Night kehrt man an genau die liebgewonnenen Orte zurück, die man am Ende von Band eins verlassen musste.
Es war schön, die alten Figuren wiederzusehen und noch mal einen Blick in ihr Leben werfen zu dürfen.
Kira Mohn nähert sich bei Protagonistin Seanna einem Thema, was nicht leicht zu verdauen ist. Ich möchte nicht spoilern, aber der Autorin gelingt es, die Situation ohne Kitsch und mit ganz viel Verständnis zu beschreiben. Wenn man selbst nie in einer Situation wie Seanna gesteckt hat, dann bekommt man eine Ahnung von deren Macht und Kälte.
Mir liefen oft Schauer über den Rücken und ich kann kaum beschreiben, wie sehr es mir die Kehle teilweise zugeschnürt hat.
Kira Mohn besitzt ein sehr tiefes Verständnis für die richtigen Worte.
Mal ist sie sanft, humorvoll und locker. Dann wieder ernst und eingehend. Sie trifft immer den richtigen Ton, hat mich als Leserin immer abgeholt.
Ich bin sehr berührt davon, wie wandelbar Kira Mohn ist.
War ihr erstes Buch so leicht und fröhlich, ist ihr zweites Buch ähnlich und doch ganz anders.
Ich muss das auch hier aufschreiben: Danke, Kira Mohn, dass du schreibst!
Ich kann meine Gefühle für Save me from the Night kaum mit der richtigen Anerkennung in Worte fassen. Bitte geht nicht mit der Erwartung einer flapsigen und austauschbaren Liebesgeschichte für zwischendurch an dieses Buch. Nehmt euch Zeit dafür und lasst es euch bewegen.
Für weitere Buchtipps und Leseempfehlungen schaut euch bei meinen anderen Rezensionen auf meinem Buchblog um.
Kaufen:
amazon.de* (Werbung) | Verlag

Format:
Klappenbroschur
ISBN:
9783499275364
Bewertung:
Erscheinungstermin:
September 2019
Verlag:
Rowohlt
Übersetzung:
–